Support freedom
Crumb Catchers
Solutions for Excessive Oral Secretions-"drooling"
---
Links and Webrings
---
Protect your loved one and your home with CRUMB CATCHERS
Severe drooling is not a common problem, but when it does occur it can be devastating. Devastating to self-esteem. Devastating to the environment and a nightmare for the caregiver. Not to mention a potentially serious health hazard.

Saliva is the perfect media for the spread of bacterial infection. Over 22 disorders contribute to excessive drolling and some people can lose up to a pint of this bodily fluid daily. For those people with a tracheostomy, the simple act of clearing the throat can spread secretions explosively.

As a registered nurse and a sewing professional, I devised this scarf to meet the needs of a young man I care for in my home. If you'd like to hear more about our story visit Kevin's page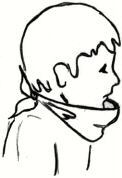 I'll tell you this. This scarf has been a lifesaver for me.
If someone in your home has a problem with excess secretions,
do them a huge favor and buy a crumbcatcher today!!
The Crumb Catcher Scarf
This scarf is double sided and permantly shaped with darts so that it cups gently around and just below the mouth. It's made of the very best 100% cotton and comes in solid colors or small masculine or feminine prints. Special side openings allow you to place an absorbant layer of material inside (such as folded paper towels). This helps the scarf hold its shape and provides added absorbancy. The scarves sell for $8.95 each or $19.95 for a package of 3.
Don't worry about the price, If you care for a disabled person there is probably a way to get them paid for.
I personally guarantee the quality of each scarf. Each one is made by me and I am truly fussy about detail.
---
The Crumb Catcher Apron
The crumb Catcher Apron is an attractive clothing protector designed to look like a small barbeque apron. It's made of washable vinyl with oversized stand-out pockets around the bottom edge and a loop in the center front to hold a small towel. Each one sells for $12.95
I'm sorry I can't take orders over the net but just email me and specify color preference and quantity. I'll send you my address and by the time I get your check your scarves should be ready to ship.
Click button to email your order

If you would like to receive my tiny little newsletter please fill in your first name and email address below. Hint: I've got few ideas about how you might get these paid for. Also, I think caregivers deserve all the support we can get and I'd really like to hear from other caregivers so we can discuss difficulties and brainstorm solutions. I promise I'll never sell this list
Oh, and check back often, I'm happily designing lots of other goodies.